Sustainable BioPanel bicycle signposts express cycle route F344
3000 kg CO2 reduction compared to aluminium boards
Client(s): Cleantech Region, National Signpost Service (NBD)
Express cycle route F344 connects Apeldoorn and Deventer. This makes the F344 an important cycling backbone through the Cleantech Region. In 2018, a number of measures were taken to allow cyclists to reach their destinations even more smoothly and safely. In 2020, a national first for the F344 followed with special new road signs that are more readable at higher speeds and are made of the environmentally-friendly BioPanel.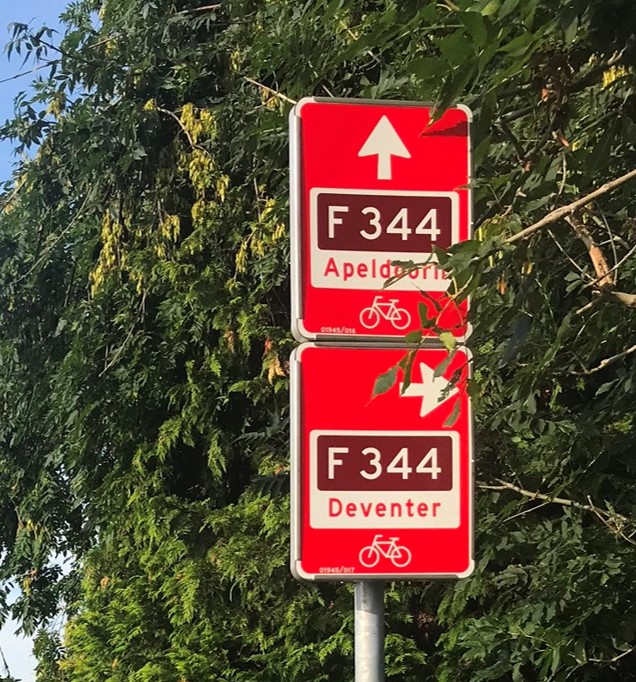 Commissioned by the Cleantech Regio and the NBD (Nationale Bewegwijzeringsdienst), 370 BioPanel bicycle signposts have been produced for signposting express cycle route F344 between Apeldoorn and Deventer. The BioPanel bicycle signposts have been placed in the form of bicycle signpost arms and bicycle signpost boards. Besides better readability of the signs at higher speeds, sustainability was an important requirement for the choice of material. After all, the Cleantech Region aims to become the most sustainable region in the Netherlands. BioPanel sheet material fits well with those ambitions, as the sheet material is made entirely from renewable raw materials and causes 99% less CO2 emissions than aluminium. Moreover, the material is fully recyclable and biodegradable.   


370 BioPanel signs were made for the signage of express cycle route F344.
This reduced over 3000 kg CO2 compared to aluminium boards.
This is equivalent to 18.500 km of driving an average diesel car!
BioPanel is a sustainable, circular and biodegradable plastic sheet material that is suitable for many different applications. BioPanel consists of 100% biobased materials with components such as industrial hemp and a thermoplastic biopolymer of lactic acid (PLA). These are rapidly renewable vegetable raw materials, which can largely be produced locally. The production of BioPanel results in up to 99% less CO2 emissions compared to conventional materials. In addition, the use of BioPanel prevents residual waste.