During the search for a suitable fiber and a polymer, we investigated many options. Our starting point was the fact that the final sheet material had to meet the following requirements:
Fossil free
Recyclable in sheets again
Biodegradable
CO2 neutral
Must not affect the ecosystem 
Biopanel can be composed of different fibers. We have now opted for industrial Hemp. We expect to use multiple fibers in the future.

Hemp is an annual plant that thrives in moist Dutch soil. The plant can be harvested after just eight months and used as a raw material.
The use of hemp fibers has many advantages:
The fibers are much stronger than components used in plastic.

Hemp is grown locally and absorbs CO2.


Hemp is widely available and growing rapidly.

Almost the entire plant is used.

For sustainable agriculture, hemp is beneficial in controlling parasites and weeds.

The growth of hemp improves the soil.
In the composition of Bioplastics, there are few fossil-free polymers that can withstand various weather conditions. The influence of sunlight, temperature differences and water cause rapid degradation of the bioplastic.
PLA and HDPE are the polymers that can be produced fossil free, but what is the difference?
We have developed a PLA for BioPanel that is sufficiently strong, so that we can give a 10-year guarantee on the use of BioPanel in the open air. This PLA is a biodegradable thermoplastic that is extracted from corn or sugar cane. PLA has no negative effect on our ecosystem.
HDPE (high density polyethylene) can be extracted from cane sugar. However, the processing that has been done ensures that compounds are created that are equivalent to the PE variant from petroleum, so that HDPE is no longer biodegradable. Ultimately, waste remains and the microplastics can end up in our ecosystem. In flowers, plant food and eventually in the human body.
The advantages of BioPanel
BioPanel sheet material consists entirely of rapidly renewable, vegetable raw materials.

BioPanel emits up to 99% less CO2 than its alternatives.

BioPanel is strong, relatively light and does not lose any properties in outdoor applications.

BioPanel has a durability of at least 10 years.

BioPanel is recyclable and biodegradable. This prevents residual waste.
Receive a free BioPanel sample?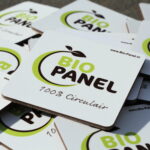 We can imagine that you would like to hold BioPanel in your hands to determine whether the material can mean something to you. Request a BioPanel sample free of charge and without obligation!