The story behind BioPanel
Entrepreneurs Jeroen Drabbe and Fred van Schoonhoven have been realising sustainable route concepts for over 15 years. Lacking a sustainable alternative to signs made of plastic or aluminium, they started the search for a truly sustainable solution in 2016, together with Wageningen University & Research. Not only circular, but also CO2-neutral, biodegradable and free of fossil raw materials, such as bauxite, petroleum and lime. This was the first step towards the development of BioPanel sheet material and the start of BioPanel BV as an organisation.
Eventually, the search turned to hemp. Not the variety you roll joints from, but an industrial variety that is also used in agriculture as a soil improver and is readily available locally. The hemp is mixed with PLA, a thermoplastic biopolymer of lactic acid that is a by-product of sugar production. Like hemp, PLA is a conscious choice because the material is biobased and biodegradable.
Some 75,000 bicycle signposts, route markings and information panels made of BioPanel sheet material have already been installed across the Netherlands. And the ambitions certainly do not end there. Because almost every day we receive questions from sign makers, plastics dealers, construction companies, furniture makers and (product) designers who want to work with our sheet material or granules. Winning the jury prize of the Gelderland Circular Innovation Top 20 in early 2021 is a great encouragement in this respect. 
Good idea, collaboration or interested in becoming a BioPanel reseller?
Do you have a good idea for an application of BioPanel? Are you active in (visual) communication, signing or signage? Or are you a supplier of sheet materials? Then we would like to get in touch with you. BioPanel sheet material was developed to contribute to the reduction of CO2 impact and residual waste. The application possibilities are almost endless. And we enjoy working with partners who want to make the world a bit more sustainable together with us.
BioPanel is growing and the demand for sustainable alternative materials such as BioPanel is developing at a rapid pace. To accelerate our growth, we are open to investments. With those investments, we expect to accelerate in serving new markets and geographies, expand the BioPanel product range and optimise and scale up our sales & marketing activities.  
Working together to realise sustainable ambitions? Or need more information? Feel free to get in touch. We look forward to meeting you!
More information can be found on our contact page.
Receive a free BioPanel sample?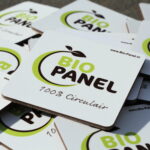 We can imagine that you would like to get your hands on BioPanel to determine whether the material could be something for you. Therefore, request a free BioPanel sample without any obligation!