BioPanel information panels Farmers' cheese route Zoeterwoude
175 kg CO2 reduction compared to HPL/Trespa board material
Client: Municipality of Zoeterwoude
Commissioned by the municipality of Zoeterwoude, AbelLeisure was asked to develop an experiential 'Cheese' cycle route. The result is a 20-km Farmers' Cheese route that leads recreational cyclists through the municipality of Zoeterwoude and past artisan cheese, ice cream and dairy farms. The route was designed together with the farms/entrepreneurs involved. Along the way, the cyclist receives information about the agricultural peat meadow area, the meadow bird areas, the historical buildings, the dairy production process, the flowery roadsides/biodiversity and the bee landscape. In consultation with the client, environmentally-friendly and sustainable BioPanel signs were deliberately chosen.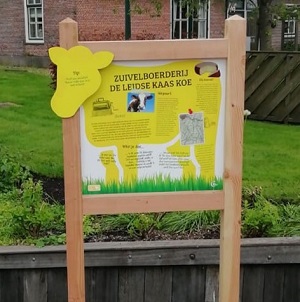 Commissioned by the municipality of Zoeterwoude, 14 BioPanel information panels and signs were made to provide an environmentally-friendly and sustainable interpretation of the 'Cheese' cycling route. BioPanel signs have extremely low CO2 emissions, are fully recyclable and also biodegradable! Moreover, the stickers are environmentally friendly. A PVC-free foil is used, on which a full-colour print is applied, after which the print is provided with a PVC-free protective laminate. Moreover, printing on a PVC free foil is much more environmentally friendly than, for example, a screen printing method.


For this project, 19 BioPanel signs have been installed.
In doing so, the municipality of Zoeterwoude has already reduced 175 kg CO2 compared to HPL/Trespa panels.
This is equivalent to the CO2 uptake of growing 9 trees for one year!
BioPanel is a sustainable, circular and biodegradable plastic sheet material that is suitable for many different applications. BioPanel consists of 100% biobased materials with components such as industrial hemp and a thermoplastic biopolymer of lactic acid (PLA). These are rapidly renewable vegetable raw materials, which can largely be produced locally. The production of BioPanel results in up to 99% less CO2 emissions compared to conventional materials. In addition, the use of BioPanel prevents residual waste.