Environmentally friendly parking signs based on plant-based BioPanel sheet material
70 kg CO2 reduction by using BioPanel instead of aluminium
Client(s): HMP Distribution BV
Hemp products are becoming increasingly known to the wider public. Driven by the plant's healthy properties and positive impact on the environment. HMP Distribution wants to show all the potential of this plant and distributes reliable and strong brands around the hemp crop in the European market.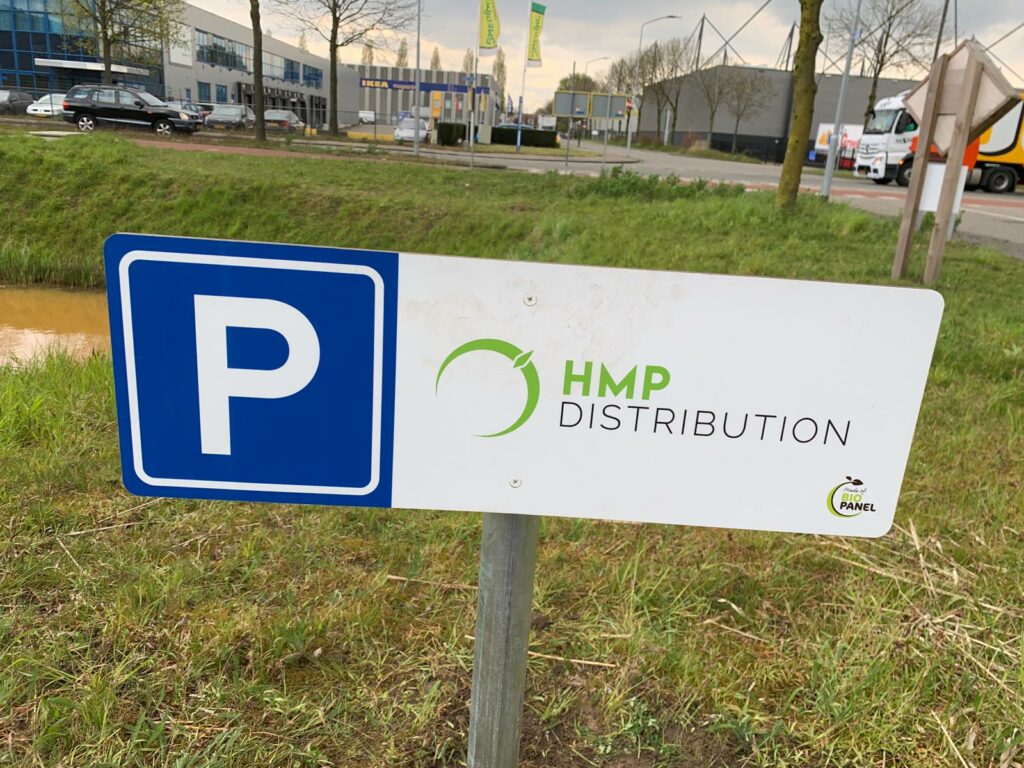 As a distributor of hemp products, HMP Distribution did not have to think long about the choice of material for new parking signs. Preferably also made from hemp. And so they ended up with BioPanel. The fact that BioPanel parking signs are also among the most environmentally friendly on the market made the choice even easier. Because if the focus is on electrification of cars and fleets, it is of course even better to save CO2 on any new parking signs that might be needed.    
BioPanel is a bio-based plastic made entirely of renewable, plant-based raw materials. The information panels have extremely low CO2 emissions, are fully recyclable and also biodegradable at the end of their useful life. The signing is also environmentally friendly. The BioPanel sheet material is coated with a PVC-free sign face onto which a full-colour print is applied, after which the print is coated with a PVC-free protective laminate. Printing on a PVC-free foil is much more environmentally friendly than, for example, a screen printing method.


11 BioPanel parking signs were made for HMP Distribution.
This reduced over 70 kg of CO2 compared to aluminium boards.
This is equivalent to driving an average diesel car for 417 km!
BioPanel is a sustainable, circular and biodegradable plastic sheet material that is suitable for many different applications. BioPanel consists of 100% biobased materials with components such as industrial hemp and a thermoplastic biopolymer of lactic acid (PLA). These are rapidly renewable vegetable raw materials, which can largely be produced locally. The production of BioPanel results in up to 99% less CO2 emissions compared to conventional materials. In addition, the use of BioPanel prevents residual waste.