Environmentally friendly BioPanel tourist signace
28kg CO2 reduction per signpost
Client(s): Regional Office for Tourism De Langstraat and Municipality of Waalwijk
Those looking for important places in Waalwijk town centre need only follow the new brown signs. Waalwijk municipality, together with Regional Bureau for Tourism (RBT) De Langstraat, has arranged for better signposting in the Waalwijk town centre. There are now signs from the car parks into the centre. These point to locations such as shopping centre De Els, Stadstuin, Hooisteeg, Sint Jan, Theatre De Leest, bus station or the Tourist Information Point. The future Shoe Museum is not missing either. Sustainability and circularity are important in Waalwijk, which is why they chose new signposts with minimal CO2 impact. The signposts are made of the environmentally friendly BioPanel.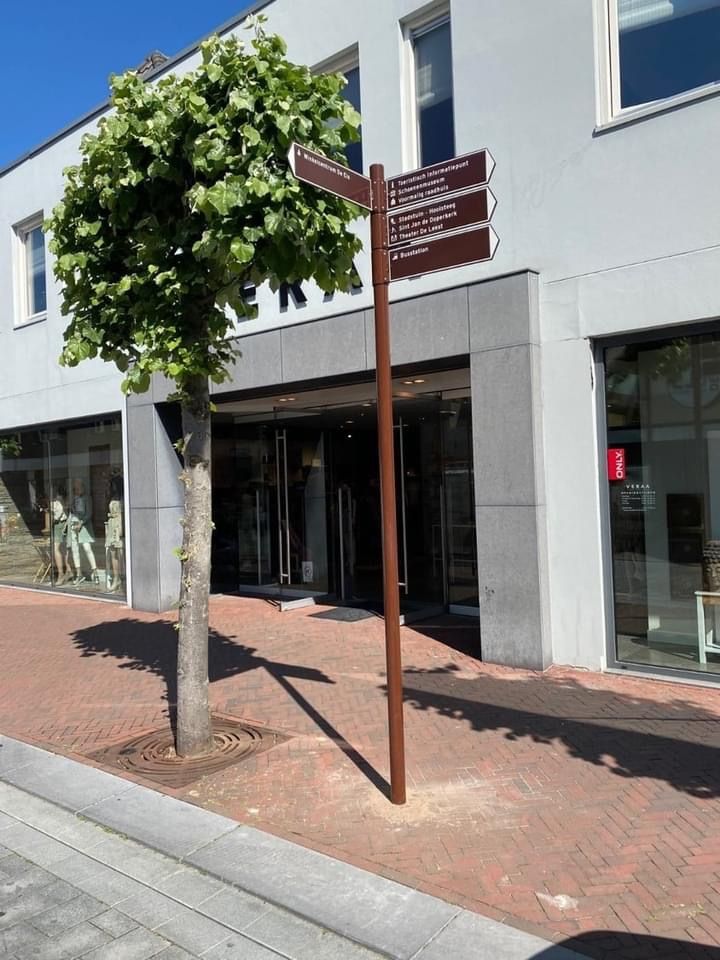 Commissioned by Regionaal Bureau voor Toerisme De Langstraat  and the Gemeente Waalwijk, AbelLeisure provided the centre of Waalwijk with new tourist signposts. Whereas in many municipalities the tourist signposts are still made of conventional sheet materials, such as aluminium or plastic, here the environmentally-friendly BioPanel was deliberately chosen. This panel material is made entirely of vegetable matter. With each signpost placed, which consists of several signs, some 28 kg of CO2 emissions are reduced compared to the use of aluminium sheet material. That is equivalent to growing a tree for three months.
BioPanel is a bio-based plastic made entirely of renewable, plant-based raw materials. The information panels have extremely low CO2 emissions, are fully recyclable and also biodegradable at the end of their useful life. The signing is also environmentally friendly. The BioPanel sheet material is coated with a PVC-free sign face onto which a full-colour print is applied, after which the print is coated with a PVC-free protective laminate. Printing on a PVC-free foil is much more environmentally friendly than, for example, a screen printing method.


For tourist signage in the centre of Waalwijk, 14 BioPanel signposts have been made so far.
Each BioPanel signpost reduces over 28 kg of CO2-emissions compared to using aluminium sheet material.
This is equivalent to the CO2 uptake of growing a tree for 1 year!
BioPanel is a sustainable, circular and biodegradable plastic sheet material that is suitable for many different applications. BioPanel consists of 100% biobased materials with components such as industrial hemp and a thermoplastic biopolymer of lactic acid (PLA). These are rapidly renewable vegetable raw materials, which can largely be produced locally. The production of BioPanel results in up to 99% less CO2 emissions compared to conventional materials. In addition, the use of BioPanel prevents residual waste.