Environmentally friendly BioPanel information boards to support Japanese Knotweed control
99% less CO2 emissions than with conventional aluminium signs
Client(s): Heijmans Dienstverlening and Irado for various municipalities
Japanese knotweed (Fallopia japonica) is a persistent problem in many municipalities. With its strong growth, this invasive exotic species displaces native plant species. The strong roots and stems of Japanese knotweed are even capable of causing damage to streets, buildings and pipes. Adequate control of Japanese knotweed and its further spread is therefore of great importance. This requires, among other things, clear information about mowing management in places where the plants occur.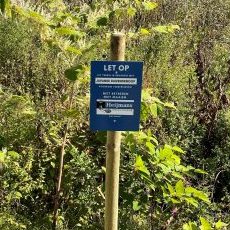 Commissioned by Heijmans Dienstverlening and Irado, BioPanel has now produced and delivered more than a hundred environmentally friendly information boards to support the fight against Japanese Knotweed. These information boards inform passers-by and site managers where Japanese knotweed is growing and how to deal with it in mowing management to prevent further spread. At the same time, the use of BioPanel sheet material for the signs significantly reduces CO2 emissions compared to traditional signs made of aluminium or oil-based plastics, such as HPL.
BioPanel is a 100% biobased plastic based on renewable, plant-based components. Boarding based on BioPanel sheet material has extremely low CO2 emissions. Moreover, the sheet material used is fully recyclable and biodegradable at the end of its service life. For signing purposes, the sheet material is provided with a PVC-free foil and a durable full-colour print that is finished with a PVC-free protective laminate.


So far, more than 100 BioPanel information boards on Japanese Knotweed control have already been made.
A BioPanel information sign is virtually CO2 neutral and provides up to 99% CO2 reduction compared to aluminium signs!
BioPanel is a sustainable, circular and biodegradable plastic sheet material that is suitable for many different applications. BioPanel consists of 100% biobased materials with components such as industrial hemp and a thermoplastic biopolymer of lactic acid (PLA). These are rapidly renewable vegetable raw materials, which can largely be produced locally. The production of BioPanel results in up to 99% less CO2 emissions compared to conventional materials. In addition, the use of BioPanel prevents residual waste.