Circular BioPanel bicycle signposts in Gelderland province
1.2 tonnes CO2 reduction compared to aluminium boards
Client: Province of Gelderland
Province of Gelderland is committed to circularity. Companies are encouraged to save on raw materials and reduce CO2 emissions. In addition, pilots regularly take place in which innovative, sustainable materials are used that provide an environmentally-friendly alternative to conventional materials with a less sustainable character. One such pilot concerns the development of a sustainable solution for bicycle signposts at various locations in the province of Gelderland.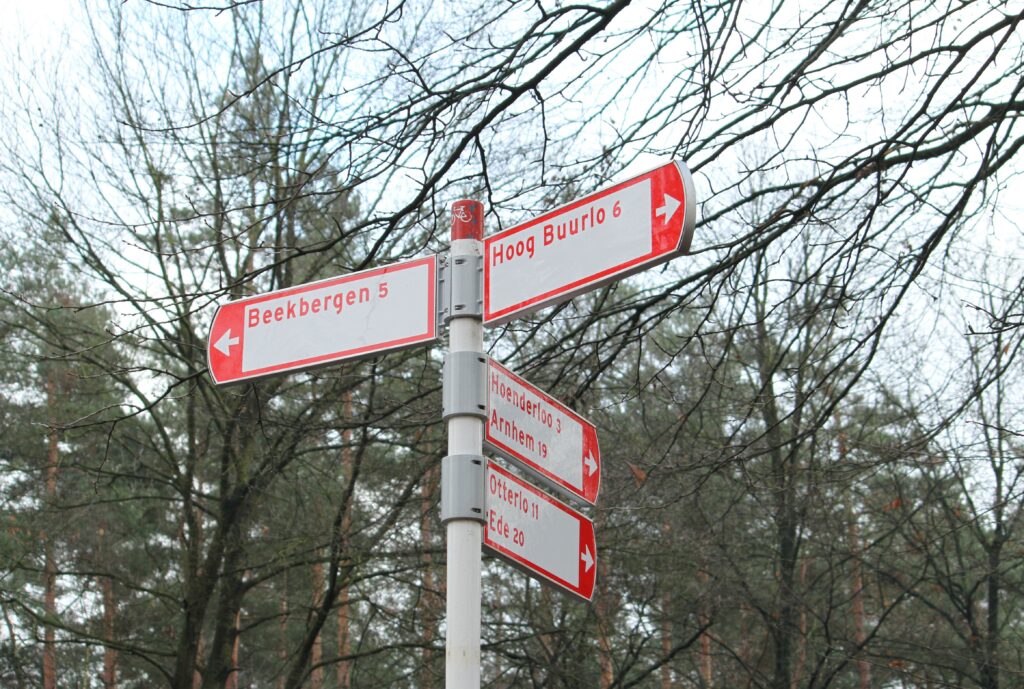 Commissioned by the Province of Gelderland, 69 BioPanel bicycle signposts have been produced for placement at various locations in the province of Gelderland, including between Apeldoorn and Arnhem. The construction around the signs was designed to make use of existing brackets. The signs are designed in the standard white and red layout as laid down by law. BioPanel sheet material was used for the panel. This is coated with a PVC-free sign face on which a full-colour print is applied. It is then finished with a PVC-free protective laminate. Printing on a PVC free foil is much more environmentally friendly than, for example, a screen printing method.
For this project, 69 BioPanel bicycle signposts were installed.
In doing so, the province of Gelderland reduced 1,2 ton CO2 compared to aluminium signposts.
This is equivalent to flying back and forth between Amsterdam and London 10 times!
BioPanel is a sustainable, circular and biodegradable plastic sheet material that is suitable for many different applications. BioPanel consists of 100% biobased materials with components such as industrial hemp and a thermoplastic biopolymer of lactic acid (PLA). These are rapidly renewable vegetable raw materials, which can largely be produced locally. The production of BioPanel results in up to 99% less CO2 emissions compared to conventional materials. In addition, the use of BioPanel prevents residual waste.