BioPanel route markings walking network Veluwe
1.5 tonnes CO2 reduction compared to aluminium boards
Client: Routebureau Veluwe
The Routebureau Veluwe develops and manages the Veluwe-wide route networks for cycling, mountain biking, walking and horse riding. The range of these activities will be greatly expanded in the coming years, making use of existing paths and using sustainable and circular materials for signposting. The Routebureau Veluwe is a joint project of twenty municipalities: Apeldoorn, Arnhem, Barneveld, Brummen, Ede, Elburg, Epe, Ermelo, Harderwijk, Hattem, Heerde, Nijkerk, Nunspeet, Oldebroek, Putten, Renkum, Rheden, Rozendaal, Voorst and Wageningen. On behalf of these municipalities, the municipalities of Apeldoorn and Ermelo act as the network manager.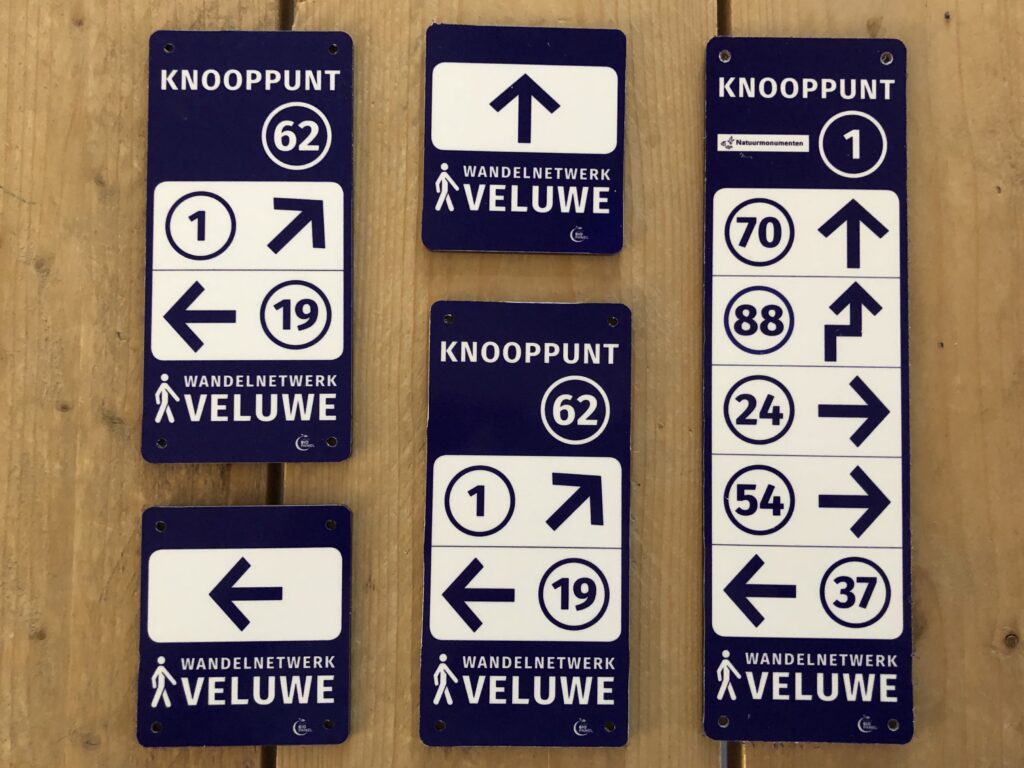 For the signposting of the Veluwe walking network, the Routebureau Veluwe has chosen environmentally friendly signposting from BioPanel. This has started in two areas, Hoenderloo and Veluwezoom. The other areas will follow immediately. Eventually, the plan is to replace all existing aluminium signs with the environmentally friendly and circular BioPanel cycling route signs when they reach the end of their useful life. BioPanel is a panel material made entirely from renewable raw materials industrial hemp and PLA. Because the hemp is grown locally and BioPanel sheet material can be produced at a relatively low temperature, BioPanel produces 99% less CO2 emissions than aluminium. Moreover, BioPanel sheet material is recyclable and biodegradable. The labelling, too, is environmentally friendly. A PVC-free foil is used for this purpose, on which a full-colour print is applied, after which the print is provided with a PVC-free protective laminate. Printing on a PVC-free foil is much more environmentally-friendly than, for example, a screen printing method.    
For this project, over 3200 BioPanel signs have been installed in two areas so far.
In doing so, the province of Gelderland has already reduced 1,5 tonnes CO2 compared to aluminium signs.
Although this is just the beginning, this is already equivalent to flying to Paris 10 times!
BioPanel is a sustainable, circular and biodegradable plastic sheet material that is suitable for many different applications. BioPanel consists of 100% biobased materials with components such as industrial hemp and a thermoplastic biopolymer of lactic acid (PLA). These are rapidly renewable vegetable raw materials, which can largely be produced locally. The production of BioPanel results in up to 99% less CO2 emissions compared to conventional materials. In addition, the use of BioPanel prevents residual waste.