BioPanel information panels Sailing through Groningen
43 kg CO2 reduction compared to HPL/Trespa boards
Groningen is proud of its lakes and many hand-dug canals and ditches. In order to share all this beauty with water sports enthusiasts and to put the province of Groningen on the map as a sailing destination, eight sailing routes have been developed under the heading of Varen door Groningen (Sailing through Groningen). These sailing routes are attractively displayed in a photo book, are included in the RoutAbel app and 11 information panels have also been placed along the routes. Sailing through Groningen is a collaboration between HISWA Association, Marketing Groningen, Routebureau Groningen, AbelLeisure and eleven marinas. The initiative came about partly thanks to a contribution from the Province of Groningen.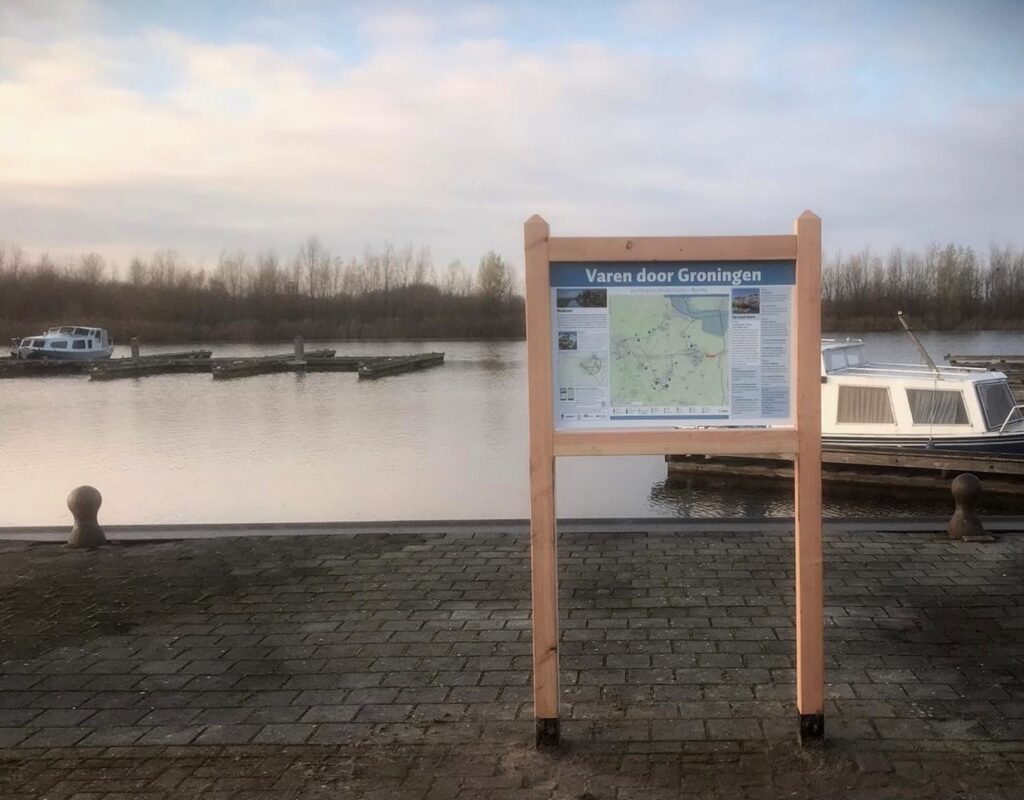 Commissioned by the partnership, 11 information panels were developed and made from BioPanel. BioPanel is a bio-based plastic made from renewable, plant-based raw materials. The information panels have extremely low CO2 emissions, are fully recyclable and biodegradable at the end of their useful lives! The information panels, which are installed at participating marinas, state a sailing route that can be started from the marina in question. The stickers on the information panels are also environmentally friendly. A PVC-free sign face is used for this purpose, on which a full-colour print is applied, after which the print is provided with a PVC-free protective laminate. Printing on a PVC free foil is much more environmentally friendly than, for example, a screen printing method.


For this project, 11 BioPanel information panels were installed.
In doing so, the province of Groningen reduced 43 kg CO2 compared to HPL/Trespa panels.
This is equivalent to 260 km of driving an average diesel car!
BioPanel is a sustainable, circular and biodegradable plastic sheet material that is suitable for many different applications. BioPanel consists of 100% biobased materials with components such as industrial hemp and a thermoplastic biopolymer of lactic acid (PLA). These are rapidly renewable vegetable raw materials, which can largely be produced locally. The production of BioPanel results in up to 99% less CO2 emissions compared to conventional materials. In addition, the use of BioPanel prevents residual waste.