Art object made of 100% plant-based BioPanel sheet material
Pictorial application of BioPanel as an environmentally conscious construction material
Client(s): Lobke Meekes with art project "Eenwoud" on Assisië estate
"Eenwoud" is a forest project at Landpark Assisi, which is being realised from the descendants of trees that have special meaning for someone and will live together for the next 1,000 years. Seeds and cuttings from the nominated trees will be placed on 1 hectare of land, allowing their roots to connect, strengthen each other and grow together into a powerful ancient network. A network of trees, people and stories about relationships, memories, family and time.
Commissioned by visual artist Lobke Meekes for her art project "Eenwoud" on Assisië estate in Biezemortel, 16 elements were milled from BioPanel sheet material to form a circular object. Eight accompanying information panels were also made. Lobke was pointed to BioPanel in her search for sustainable information panels from her network. The showcase with laser processing of BioPanel by Snijlab gave her the idea to also choose BioPanel as the basic material for a circular object, made up of 16 interlocking rectangles, placed about 5 cm into the ground for sturdiness and to stop grass from growing in.
BioPanel is a sturdy panel material in various thicknesses made entirely of rapidly renewable plant-based raw materials. Originally developed as sheet material for signing, BioPanel's possibilities go far beyond that. Because the crops that form the basis of BioPanel absorb large quantities of greenhouse gases from the air during their growth cycle and because BioPanel is produced energy-efficiently at relatively low temperatures, this makes BioPanel a virtually CO2-neutral panel material. Moreover, BioPanel is recyclable and biodegradable. So we avoid residual waste.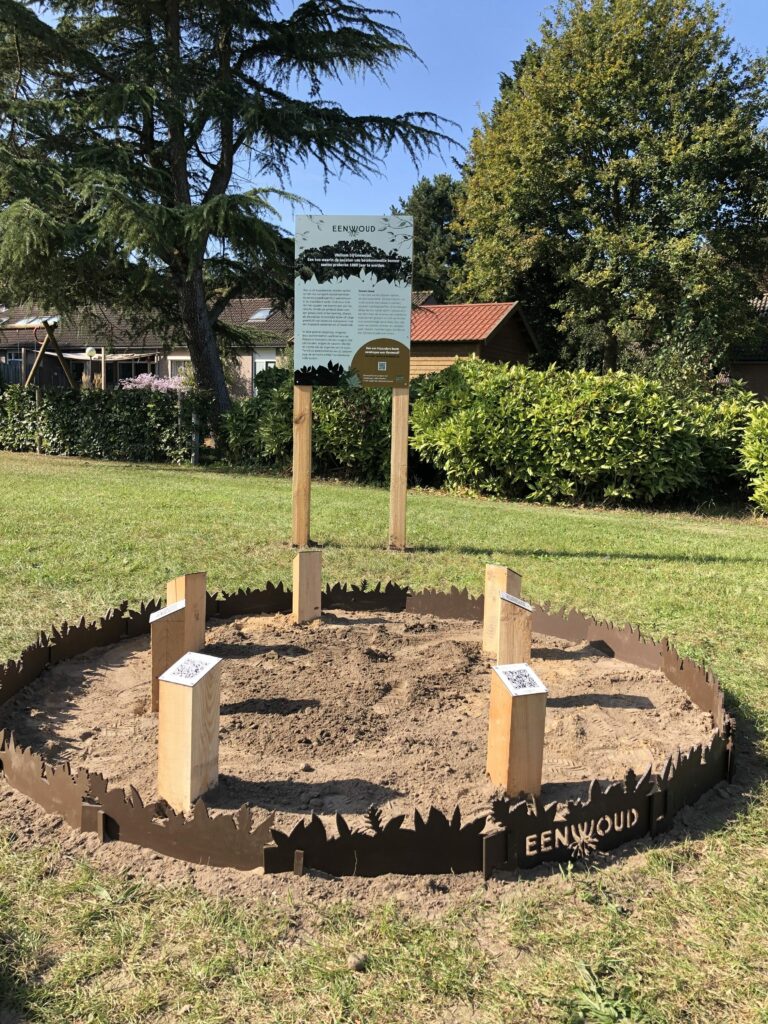 For art project "Eenwoud", 16 elements were milled from BioPanel sheet material and 8 information panels were made.
The information panels provide over 10kg of CO2 reduction compared to using HPL and the art object is a great example of using BioPanel as a construction material.
The result is 100% plant-based, has a minimal CO2 footprint and is recyclable and biodegradable!
BioPanel is a sustainable, circular and biodegradable plastic sheet material that is suitable for many different applications. BioPanel consists of 100% biobased materials with components such as industrial hemp and a thermoplastic biopolymer of lactic acid (PLA). These are rapidly renewable vegetable raw materials, which can largely be produced locally. The production of BioPanel results in up to 99% less CO2 emissions compared to conventional materials. In addition, the use of BioPanel prevents residual waste.